alter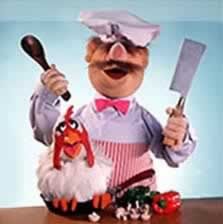 Say hi to my Muppet alter ego. I forget where I took the "which muppet are you" quiz. I'm sure it's in the archives here or at
sand
. Doesn't matter. Apparently I'm friendly, benign, and yet a little scarily off my rocker. Friends seem to work with it. It puts others off. Like the Chef, I think I'm speaking clearly, and yet apparently mumble, because others sometimes do not appear to understand or comprehend what I am saying. This surprises me because, when not being goofy or slightly inebriated, I choose my words carefully -- I like them and collect and debate them. They can be as vague or as specific as you choose to use them -- I aim generally for specificity with coy vagueness for color.
At some point, a major part of my life became writing it to try to create order out of entropy. So I end up in the dusk, trying to type with one needy Steve McQueen tabby draped over my shoulder as I try to type and find the words that will translate the babble of Swedish, which I've as yet to learn to speak. I can
almost
pronounce one very useless word which I'd type if only I knew how to put an oomlaut into this text.
On the upside? One of the unexplainable, words escape me to describe it moments of my week consisted of staring out the window of my Super 8 cell at a giant fiberglass turtle riding a snowmobile. Life is, truly, stranger than any fiction. And words only fail one of them.